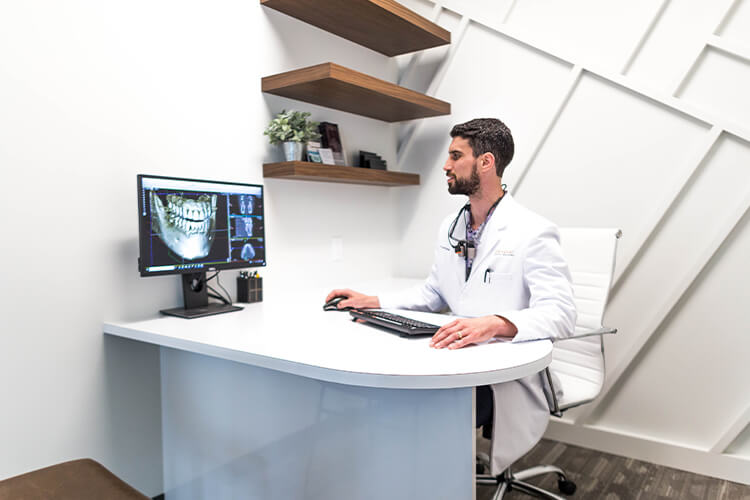 Have you been hiding your smile due to missing teeth? Consider dental implants as a natural-looking permanent solution! An implant acts as a replacement tooth root that anchors to a natural-looking artificial tooth. Implants are fully functional and blend in well with your natural teeth. With their realistic appearance, easy maintenance, and varied options for restoration (single-tooth, implant-supported bridge, implant-supported dentures, and All-on-4® implants), dental implants are proving to be a highly ranked form of dental improvement.
Benefits of Dental Implants
Dental implants are extremely similar to natural teeth:
Appearance

There is little to no visible difference between your natural teeth and the implant.

Functionality

You can eat, speak, and brush your teeth as you would without the implants.

Comfort

No need to compromise on comfort. Implants fuse with your bone, eliminating the discomfort you might feel from other methods of dental improvement.
Dental Implant Candidates
Are you interested in dental implants? Consider the following:
Your gums must be healthy enough to undergo oral surgery.
If you have bone loss, you may need a bone grafting procedure so your jaw is strong enough to support the implant.
Are you committed to keeping your mouth healthy (via at-home oral care and routine dental visits) to maintain the integrity of your implants? Evaluate your oral hygiene routine, reveal your medical history to our team, and coordinate a plan that works with your lifestyle.
If you are a smoker or suffering from a chronic disease, you may need specific care or another method of improvement.
Cost of Dental Implants
Though the benefits of implants make it seem like a no-brainer, cost can be a deciding factor when thinking about treatment. The cost of implants are specific to each patient because it depends upon the severity of their case. At Elevate Smile Design, we are insurance-friendly and happy to help file and track your claims. Additionally, we accept a variety of payment methods and provide financing options to make your treatment more attainable. We are also currently offering a new patient special for $500 off dental implants! Be sure to screenshot or print this coupon and show it at your initial appointment.
Utilize Our Virtual Consultation Feature
If you're concerned about missing teeth and wondering if you would be a good candidate for implants, reach out to our Elevate Smile Design team. For optimal convenience, we provide virtual consultations. With this method, you can submit pictures of and information about your smile and receive a personalized reply from us within 72 hours discussing treatment and financial options.
Choose Elevate Smile Design to restore your smile!
CONTACT US