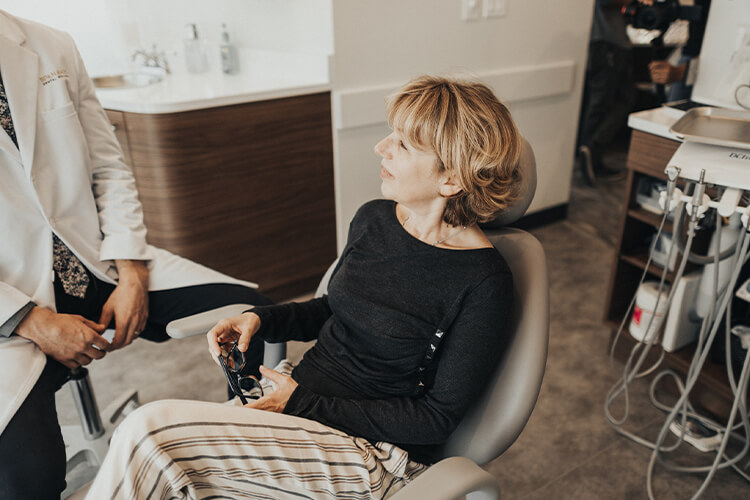 Modern dentures look more natural and feel more comfortable to wear than ever before. In fact, our patients are often surprised at how easily they adjust to wearing dentures. Dr. Perlman, Dr. Mai, and the rest of our expert team take great care to ensure that our patients feel confident and at ease when opting for this restorative treatment for missing teeth. Today, we want to share some tips for caring for your dentures. After all, they should last anywhere from 5 to 10 years, and even longer, with exceptional care!
Practice Superb Oral Hygiene for a Healthy Smile

Just like with your natural teeth, a good oral hygiene routine can preserve your dentures and help you avoid serious problems with your gums and breath. Therefore, the most important part of denture maintenance is proper cleaning. Brush your dentures each time you remove them from your mouth with a proper denture cleanser (conventional toothpaste is too abrasive). Additionally, daily brush your gums, tongue, and any natural teeth with a fluoridated toothpaste and rinse your mouth to avoid the buildup of bacterial plaque and food particles.

Handle with Care

While your dentures may look tough, they can be easily damaged if you are not careful. Be extra cautious each time you take them out of your mouth. We've heard too many stories of patients who removed their dentures and accidentally dropped them, causing them to break. When cleaning your dentures, place a soft towel at the bottom of the sink in case you drop them. Keep them moist and clean overnight in a denture cleaning solution, which will keep them from drying out, cracking, and growing unwanted bacteria. Also, be sure to place this solution where it can't be knocked over in the middle of the night by you, a loved one, or a family pet.

Keep Up with Your Dental Visits

Schedule regular checkups with Elevate Smile Design to monitor your oral health, as well the fit and condition of your dentures. Even minor issues can eventually result in major problems, so consistent dental examinations will ensure optimal oral health!
More Questions About Dentures? Ask Us!
Dentures provide a non-invasive solution for patients with missing teeth. With proper care, they can comfortably restore your ability to eat, talk, and smile with confidence.
To ask our team any questions about dentures or to schedule your next checkup and cleaning, contact our Spanaway dental office today.
Contact Us