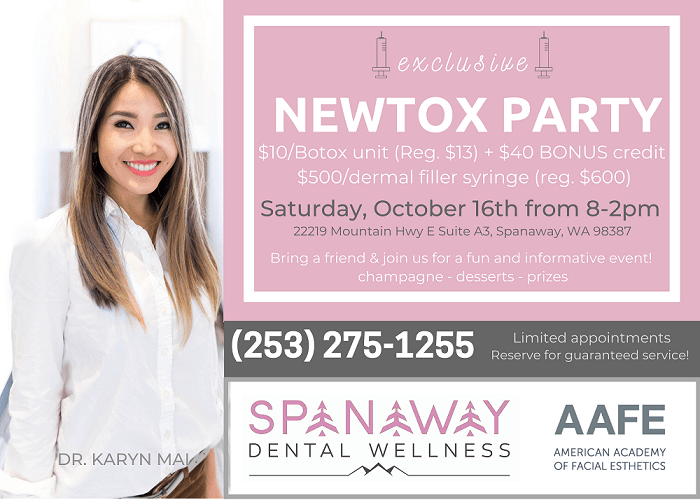 Join us for an exclusive event on Saturday, October 16th from 8-2pm
where we will be having event specials for neurotoxins and dermal fillers!
New Facial Esthetic Patients invited!
Existing Facial Esthetics Patients invited if they bring a new patient for treatment!
$10 units of Jeuveau unlimited (minimum 20 units) PLUS $40 BONUS credit – reg. $13/unit
$500 per syringe of dermal fillers ($550 for cheek fillers) – reg. $600-$700
$450/vial KYBELLA – reg. $650
All patients will get an event glam bag and be entered in to win $500 of Jeuveau Newtox!
Enjoy champagne, desserts, and raffles while learning about our facial esthetic services!
RESERVE AN APPOINTMENT for GUARANTEED SAME DAY SERVICE. Walk-ins welcomed.
Please call (253) 275-1255 or email smile@spanawaydentalwellness.com. Limited availability.
NEUROMODULATORS / NEUROTOXINS (Botox, Jeuveau) treat: (results last 3-6 months)
– Fine lines/wrinkles that are caused from muscle movements
– Frown & forehead lines
– Crow's feet
– Headaches
– Teeth Clenching/Grinding
– Slow down the progression of the downward turn of the lip corners
– Lip flip
– Gummy smile
DERMAL FILLERS treat: (results lasts 6-12 months)
– Lips
– Cheeks
– Smile Lines (Nasolabial Folds)
– Corners of the Mouth (Marionette Lines)
KYBELLA treat: (permanent)
– Excess fat in the chin