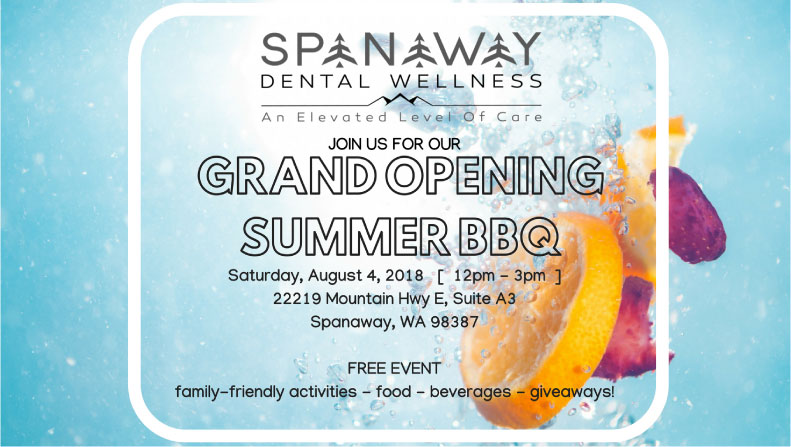 Want the inside scoop on your newest Spanaway, WA dentist? Come visit us at the Elevate Smile Design grand opening! We're hosting a Summer BBQ filled with family-friendly activities, prizes, art, and so much more!
Behind the Scenes
Tour the new office and get the first look at our personalized treatment rooms, beverage bar, and comforting amenities. You'll also get the chance to meet our team and interact with Dr. Perlman and Dr. Mai. You wouldn't buy a house without touring it, why should your dental home be any different?
Family-Fun Activities
We will be hosting games to get the entire family involved. We're even offering face painting for the kiddos! Skip your lunch plans and enjoy our complimentary BBQ, beverages, and ice cream. There will be raffles, giveaways, and all kinds of Spanaway merchandise. We will also feature an art exhibit by the talented Samantha Ang.
Join Our Free VIP Guest List
Register your name and email on our
VIP guest list
and let us know you'll be joining us. If you're not sure whether you can attend, indicate in your entry that you're unsure and you'll still be registered on the VIP New Patient Appointment Priority list. Your submission automatically enters you for a special bonus gift AND a chance to win a $1,000 gift card or free whitening for life!
When and Where
The event is on Saturday, August 4th and will last from 12pm to 3pm. We are located at 22219 Mountain Hwy E, Ste. A3 in Spanaway, WA. Come early, stay late, and join the Elevate Smile Design family!
We are thrilled to open our doors and welcome you to the office. See you there!