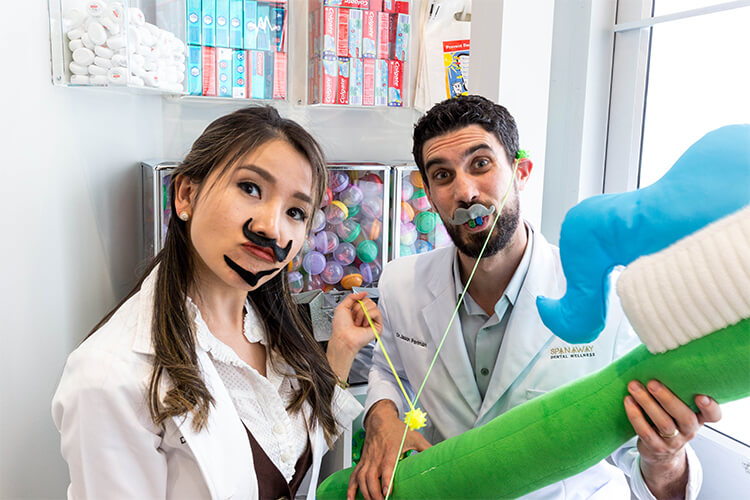 Halloween can create a dilemma for health-conscious parents. You care about your children's dental health and know how sweets can wreak havoc on teeth, but you don't want to be the house on your block that's not any fun! Elevate Smile Design is here to help. We've compiled this list of some kid-approved candy alternatives that you can give out this year.
Glow Bracelets

In addition to being exciting, glow-in-the-dark bracelets enhance safety for trick-or-treating at night. Kids wearing glow bracelets are more easily seen in the dark. Parents and kids alike will appreciate this glowing prize.

Stickers & Temporary Tattoos

Stickers and temporary tattoos are beloved by children everywhere. These great candy alternatives are small, cheap, and can be purchased in sheets and cut individually for kids trick-or-treating. Spooky themed stickers or tattoos are sure to get kids excited about playing dress-up even after Halloween and won't rot their teeth!

Spider Rings & Colorful Fake Spiders

Plastic spider rings are fun because they add the "ick" element to any child's costume, and fake spiders in bright colors can be kept as toys beyond Halloween night.

Costume Mustaches

Adhesive mustaches are a hilarious dress-up accessory that can be given out for year-round fun! You can purchase sheets of mustaches at a low cost and cut them to individual sizes.

Fun-Size Salty Snacks

Kids love savory snacks like cheesy crackers or pretzels, and parents love them as Halloween candy alternatives. They can be used as a pick-me-up during a long night of trick-or-treating, or placed in lunches the following day. Be sure to purchase individually wrapped bags so parents feel safe giving them to their children.
Have a Happy Halloween with Our Candy Alternatives!
We hope you have a wonderful and safe Halloween. When teaching your kids about trick-or-treating safety and etiquette, remind them about the negative effects of excessive sugar. "Sugar bugs" that snack on sugar stuck to their teeth cause plaque, cavities, and bad breath. Moreover, candy can cause a spike and drop in blood sugar levels, which can leave your kids feeling moodier and more tired than usual. It's OK for your kids to indulge in the Halloween goodies in moderation while drinking plenty of water, but don't forget to fill the rest of their day with healthy foods. And make sure they brush, floss, and rinse with mouthwash before bed!
Protect your child's teeth from spooky "sugar bugs" by offering candy alternatives, encouraging daily oral hygiene, and bringing them in for biannual dental visits!
Schedule Your Child's Checkup