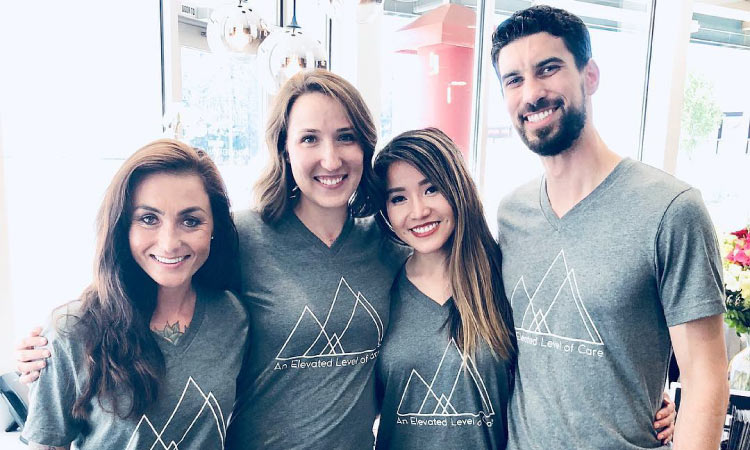 It's commonly said that you often spend more time with your coworkers than with your family. Fortunately for Dr. Perlman and Dr. Mai, this husband-and-wife dream team gets to improve the world of dentistry together. Our local Spanaway couple shares a deep passion for taking care of their community's oral health and cherishes the time they get to spend collaborating. Learn more about our friendly dentists by reading below and watching this video on our Facebook page!
Our Dentists
Dr. Karyn M. Mai
Dr. Mai earned her B.S. in Microbiology at the University of Washington in Seattle, where she was born and raised. She then went on to graduate with honors from the Ohio State University College of Dentistry. Dr. Mai believes everyone should have access to the dental care they need and deserve. She's thrilled to help people of all backgrounds achieve healthy smiles, from working with patients here at Elevate Smile Design and volunteering in our local community to participating in traveling clinics in Costa Rica and Honduras.
Dr. Jason S. Perlman
Before he discovered his passion for dentistry, Dr. Perlman studied Business Management at Arizona State University. He then went to the Ohio State University College of Dentistry where he learned to provide elevated dental care to each one of his patients by fusing art and science. His goal is to give patients the tools they need to make well-informed decisions about their oral healthcare and keep their mouths in tip-top shape so they can enjoy a lifetime of strong, beautiful smiles.
When Not in the Office
In their spare time, Drs. Mai and Perlman love to take to the outdoors. They regularly go on adventures in the fresh Washington air with their dogs—Moe and Mochi. Dr. Perlman is a big fan of biking and has raised money for a decade to fund cancer research through Pelotonia, a grassroots bike tour. Dr. Mai enjoys photography, painting, and music. The office is decorated with her travel photography. Ask our dentists about their adventures next time you're in and share your own!
Join Our Dental Family
We will help YOU achieve the smile you've always dreamed of having. Come on in and enjoy our office's relaxing, fun environment that will change your mind about what dentistry can be. Be sure to check out our new patient specials!
Great dental health for you and your family starts here at Elevate Smile Design.
CONTACT US