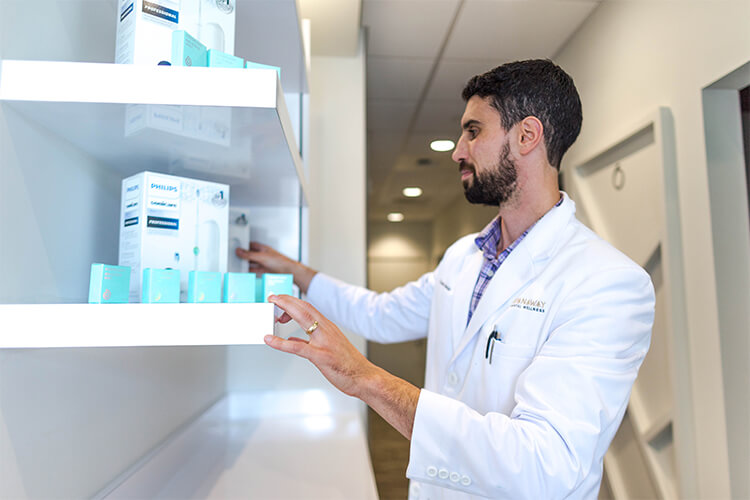 Looking for a gift for your gadget-loving spouse? Or maybe that friend who already seems to have everything? Not sure what to buy for your in-laws? If you're struggling to find the perfect gifts for your loved ones this holiday season, no matter who it is, you can't go wrong with a gift that promotes healthy teeth and gums!
Electric Toothbrush

Is your loved one still using a traditional, manual toothbrush? If so, give them the chance of a more efficient clean by gifting an electric toothbrush. Although there are plenty of options on the market, most people don't need all the bells and whistles of many of the smart toothbrushes. Therefore, we recommend a basic rechargeable version with a built-in timer and pressure sensor for optimal convenience and affordability.

Water Flosser

Gifting a water flosser is another way to upgrade the dental routine of a friend or family member. Water flossers can be a great option for people who are having trouble getting into the habit of daily flossing or accessing hard-to-reach areas due to braces, bridges, or partially erupted wisdom teeth. It's a gift the recipient may not have thought to ever buy for themselves, but it will quickly become a staple in their oral hygiene routine.

Professional Teeth Whitening

Has your loved one been expressing interest in having a whiter smile? We offer professional whitening here at Elevate Smile Design, with either custom take-home trays or a quick in-office visit. There are many products, like strips and gel, at the drugstore, but professional whitening will deliver the dramatic results your loved one deserves.

Oral Hygiene Basics

It's always convenient to have an extra toothbrush, electric brush head, tube of toothpaste, bottle of mouthwash, or roll of floss on hand for when you run out. After all, a toothbrush should be replaced every two to three months and after you've been sick. While not quite as thrilling as some of the other gifts on this list, oral care basics and travel-sized dental hygiene products are always necessary. Plus, they make perfect stocking stuffers!
Happy Holidays From Elevate Smile Design!
This holiday season, give the gift of sparkling teeth–a gift that will be appreciated for a lifetime. If you need guidance choosing an electric toothbrush or any other dental accessories, we're here to help. Contact us today, and a member of our team will happily help you pick the most effective oral hygiene products for your holiday gifts.
Our team is here to help you and your loved ones have outstanding oral health.
Contact Us