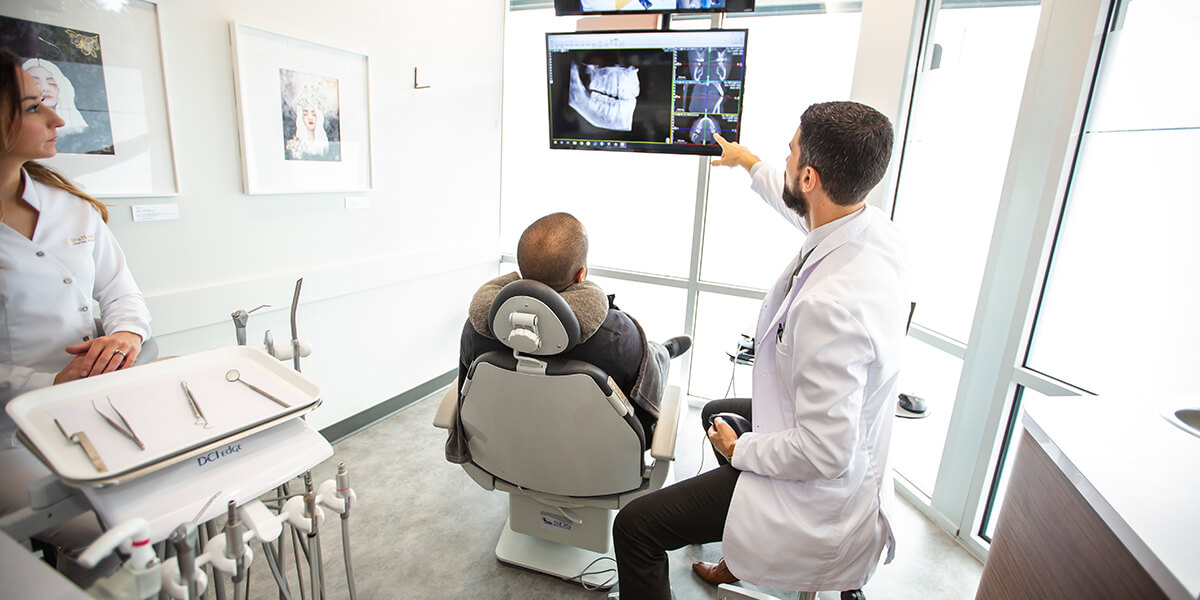 At Elevate Smile Design, we aim to make dental visits be as stress-free, comfortable, and efficient as possible. Our office's modern design caters to your whole family! Our welcoming waiting room has complimentary beverages, a computer bar, and video games and toys for kids. In our treatment rooms, patients can enjoy TVs, music headphones, warm scented towels, cozy pillows and blankets, and aromatherapy.
Latest Dental Technology
Our team utilizes the latest dental technology to provide comprehensive oral healthcare. Technology aids us in our examination and diagnosis, helps us provide more efficient treatment, and allows you to see what we see. For example:
3D Cone Beam Imaging – Cone beam imaging takes panoramic 3D images of your mouth so we can better diagnose concerns and plan precise treatments.
Low Radiation Digital X-Rays – Our low-radiation digital X-rays are safer than traditional film X-ray imaging. They give us visual information about structures below the surface of your teeth and gums.
Laser Dentistry – Laser dentistry makes for a more comfortable treatment and recovery experience for patients.
Intraoral Cameras – An intraoral camera shows real-time footage of the inside of your mouth as we examine it.
DentalVibe® – The DentalVibe is a special dental device that emits smooth vibrations to your gums to reduce pain sensations during an injection.
Enjoy Comfortable Dental Care at Elevate Smile Design!
Elevate Smile Design is a judgment-free dental office ready to provide the dental solutions you need. We offer emergency appointments, treatment for obstructive sleep apnea and disordered breathing, Six Month Smiles, Invisalign and ClearCorrect, therapy for temporomandibular joint dysfunction, tooth replacements, facial rejuvenation, children's dentistry, and more! Contact us today to learn more about our services and to schedule an appointment at our office. We are open one Saturday a month from 8:00 AM to 1:00 PM. On Mondays through Fridays, we alternate weeks being open from 8:00 AM to 5:00 PM and 9:00 AM to 6:00 PM.