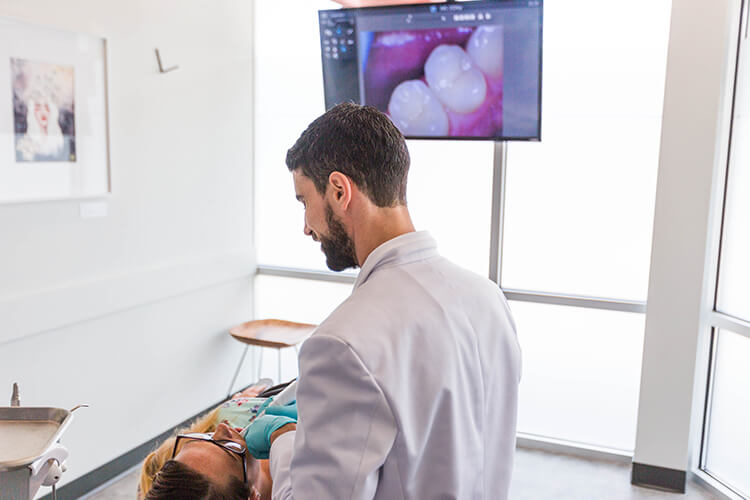 Are you suffering from gingival recession? Gingival recession is when your gumline starts to recede, exposing the root of one tooth or multiple teeth. In today's post, we're going to dive into the causes of gingival recession and a new, advanced technique called Pinhole® Gum Rejuvenation that can reverse this unsightly and unhealthy affliction so you can once again experience the beautiful, healthy smile you used to know and love.
About Gum Recession
Causes
There are a multitude of reasons that your gums could start receding, and knowing them is the first step to prevention:
Aggressive brushing
Teeth grinding/clenching
Gum disease
Poor oral hygiene
Tobacco use
Natural aging process
Genetics
Negative Effects
Receding gums cause your teeth to appear longer, but the effects of gingival recession go deeper than just the look of your smile. Gum recession also influences the health of your teeth by exposing the roots of your teeth. Root exposure makes you susceptible to weakened teeth, tooth sensitivity, infection, root damage, and even tooth loss.
Treatment for Gum Recession
Out with the Old
For a long time, the only way to fix gum recession was by getting a gum graft. This intensive procedure involved taking a chunk of gum from the roof of your mouth, lifting the gum along the receding gum line, and using sutures to mesh them together. After the healing period, the gum recession isn't quite as drastic. But now, there's an easier way!
In with the New
Dr. John Chao—a member of the Post-Graduate Periodontics Program at the University of Buffalo—invented a revolutionary procedure, called the Pinhole Surgical Technique, that changed the game of reversing gingival recession. Our own Dr. Karyn Mai specially trained with Dr. Chao and his team to become certified to perform this technique. The procedure involves making a small hole in the gumline right above the area of recession. Using special tools, Dr. Mai will smooth out and work the gum back into its proper place, restoring your smile to its former glory. Not only is this procedure less intensive, but it also has nearly instantaneous results and exponentially quicker healing time.
If rejuvenating your smile is one of your goals, we can help at Elevate Smile Design. Schedule your consultation today!
CONTACT US