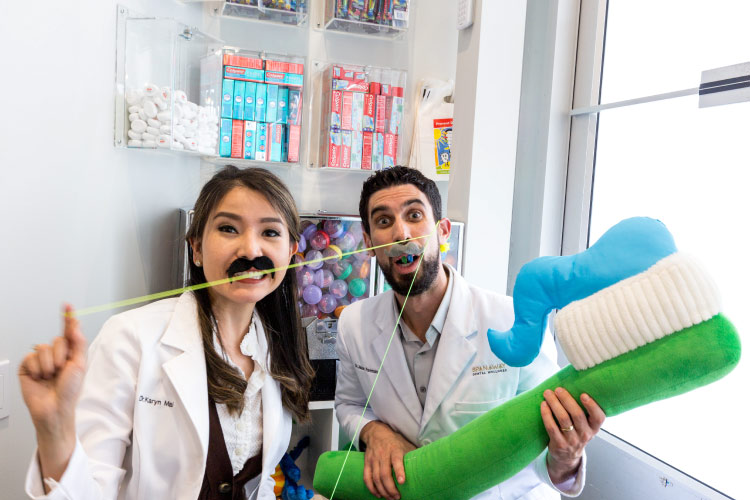 With so many toothbrush options available today, it can feel overwhelming to figure out which one is right for your unique dental needs. There are pros and cons to each type available, but we've taken out some of the guesswork for you. Read on for tips on which toothbrush to choose, based on your needs and lifestyle.
General Guidance
We recommend using a soft-bristled toothbrush that is approved by the American Dental Association. The "ADA" logo will appear on the back. Whether you choose electric or manual, the key is to gently and thoroughly brush twice a day for two minutes each time. Brush in small circular motions, taking care to get every surface of your teeth, especially on the inside of your upper and lower front teeth, and in the crevices of your molars. Additionally, don't forget to brush your tongue back-to-front and side-to-side!
To Clean a Small Mouth or Erupted Wisdom Teeth
There are different sizes and shapes of brush heads available. If you have a smaller mouth or if you have wisdom teeth that are difficult to keep clean, use a kids' toothbrush or small brush with an angled head on those hard-to-reach places in the back of your mouth to avoid discomfort. We also recommend investing in a water flosser to help reach those difficult spaces and consulting with our team about potential wisdom teeth removal.
To Prevent & Combat Gum Disease
Gum disease is caused by and worsened by plaque and tartar accumulation along the gumline. Electric toothbrushes have been shown to reduce more plaque from teeth than traditional toothbrushes. If frequent cavities and bleeding, tender gums are a problem for you, we recommend switching to an electric toothbrush. Be sure to select one that has a two-minute timer to make sure you're brushing long enough.
To Accommodate Joint or Nerve Problems
If you suffer from joint discomfort, arthritis, another inflammatory condition, or neuropathy that affects your ability to grip, look for a toothbrush with special rubber grip handles to make holding the toothbrush easier.
Eco-Friendly Options
For the eco-warriors among us, there are options that are environmentally-friendly and sustainable. For example, electric toothbrush heads create less landfill waste than traditional toothbrushes. Or, consider a toothbrush made from strictly recycled materials or sustainable bamboo.
For Kids That Hate Brushing
To help kiddos have a more enjoyable brushing experience, encourage them to choose a soft-bristled toothbrush that has their favorite cartoon character or superhero. An electric toothbrush made for kids may also help your child be more consistent with their daily oral hygiene routine. Some are shaped like animals and play music!
If you have any questions about the dental tools that are best for you, let us know at your next appointment. We're more than happy to recommend options that help keep your teeth healthy, based on your needs. If it's time to schedule an appointment, contact us today!
Contact Us