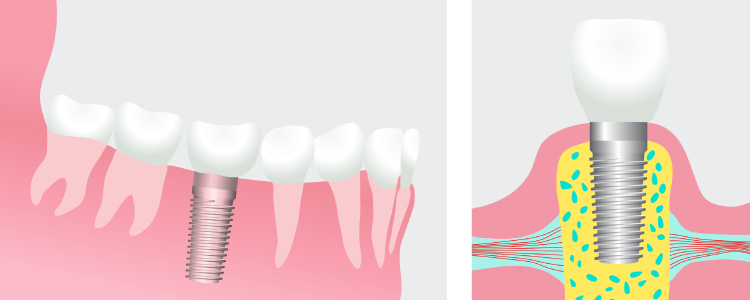 If you've been considering dental implants, you've probably been doing your fair share of research looking into the pros and cons of the treatment. Or maybe, this blog post is your first step into exploring whether or not the procedure is right for you. At Elevate Smile Design, we're always excited when people want to be better informed about their dental care. We're happy to give you more information about how dental implants are fitted to guide your decision.
X-rays & Scans
Before any actual hands-on work is done with dental implant surgery, the first step is always taking images in order to plan the treatment. We use 3D cone beam imaging. With these detailed images, your implant team can precisely plan the surgery and check for bone density, which is an important determination for the success of the implant. Every patient's situation is different so it's important to take a look at the treatment area in a more detailed way than a simple visual check.
The Surgery
When it's time for your dental implant surgery, local anesthesia will be applied and any previously discussed dental sedation will be administered. Then, the implant post will be surgically placed into your gums and jawbone. That area will then be left to heal for a few months. Once the implant is secure and has fused with your bone, you'll come back to our office so we can add the abutment, or attachment piece. The finishing piece is the toothlike restoration, oftentimes a dental crown. This restoration piece is specifically designed for you so that it blends in seamlessly with your smile.
Dental Implants at Elevate Smile Design
Overall, that's the basic gist of how dental implants are fitted. If you want more details about any of the steps in this procedure, we'd be happy to provide them to you. Dental implants are a popular procedure so we have lots of experience. Choosing your restoration option is an important part of the treatment plan. At our Spanaway, WA office we have solutions whether you need to replace a single tooth or a string of teeth. We offer single tooth implants, implant-supported bridges, implant-supported dentures and mini implants, in addition to All-On-4® implants. So if you're ready to take the next step and move forward with an implant consultation, we invite you to schedule one at our office. We hope to hear from you soon!
Don't hesitate to contact us if you want to learn more about dental implants!
Contact Us